John   |     03 Feb 2022
How to fetch new emails from other linked accounts in Gmail
When you have a work (custom domain) email eg [email protected], it is a good idea to link it to your Gmail account so that you can easily manage it from one place with your Gmail email. Gmail allows you to link a total of 5 email accounts.
After linking your domain email to your Gmail account, you'll receive all your mails sent to it in your Gmail. These mails will be automatically sorted based on their types (Primary, Social, Updates, Promotions, Forums). They are also flagged as originating from your domain email account so as to differentiate them from normal Gmail account messages.
You can also send or reply to emails using your domain email in Gmail such that your recipients won't be aware that the email was sent through Gmail.
Related article:
- How to link your domain emails to your Gmail account
Mails sent to your domain email account don't just get automatically into Gmail. At the time of linking your email account to Gmail, you authenticate Gmail and give it permission to access your mails.
It periodically (at some intervals) checks if your linked email account has received any new messages. If it finds a new message, it imports/fetches it into your Gmail account and sends you a notification for a new mail. You are now then able to read it and reply to it (from your linked account) via your Gmail account.
However, there are chances for delays from time to time in receiving mails sent to your domain email account in Gmail. This is because the intervals Gmail takes in checking if new mails have been received in your linked email account varies from a few minutes to one hour or so. Therefore an email sent to your linked email account immediately after the last Gmail check may get discovered and fetched one hour later after the actual time it was received.
If you were expecting a new mail and are suspecting (or know) that it has already been sent to your domain email account but hasn't yet seen it in your Gmail inbox, you can request Gmail to manually check and fetch it from your domain.
How to manually fetch emails from your domain email account in Gmail
Follow the quick steps below:
Step 1: Log in to your Gmail account
Step 2: Click on the Settings (gear) icon at the top right and then select the "See all settings" option from the dropdown.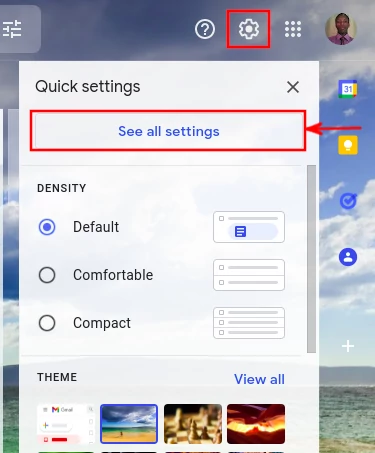 Step 3: Open the "Accounts and Imports" tab

Step 4: Scroll down to the section labeled "Check mail from other accounts". You will see a list of all the linked email accounts that Gmail should fetch emails from. You can also view how long it has been since the last time Gmail checked the email accounts for new emails. Click on the "Check mail now" link to fetch/import any new mail that may have been received after the last check.

If there was a new email sent to your linked email account, it will be fetched and you will see it as a new email in your Gmail account.
You will also notice that after checking for new mail, the details about "last checked" will be updated as below, showing the number of mails fetched.

Now you know what to do if you were expecting a new mail from an email account linked to your Gmail account but can't find it in Gmail.
You May Also Like: