John   |     02 Sep 2022
How to change the WiFi name and password on Tenda F3 router
Did your ISP technicians give your WiFi a random generic name when installing internet at your home or workplace?
Would you like to rename it and give it a better name such as your name or business name?
If your internet has slowed down lately, maybe you have shared your WiFi password with way too many people (neighbors and friends), who have in turn shared it with others or connected all their devices to it. This slows it down and that sucks... Especially if they are paying you nothing.
Changing the WiFi password may be your next best move. This disconnects all connected devices and requires the use of the new password to reconnect. This way you can easily monitor the devices that connect.
Your internet technicians leave behind a router at your home/office after the installation through which devices in your home/office network get access to the internet.
Most of the routers have a web interface, where you can access and manage your network.
In this article, you will learn through a step-by-step process, how to change the WiFi name and its password on a Tenda F3 router.
Changing WiFi name and password on Tenda F3 router
Follow the easy steps below:
Step 1: Make sure your device (PC or smartphone) is connected to the router network, either via WiFi or an ethernet cable.
Step 2: Open your favorite web browser on your device and enter the IP address 192.168.0.1 or tendawifi.com on your browser address bar and hit the Enter key.
Step 3: Enter the password as "admin" or the one you changed to (if you have ever changed the router password from default) and click on the Login button.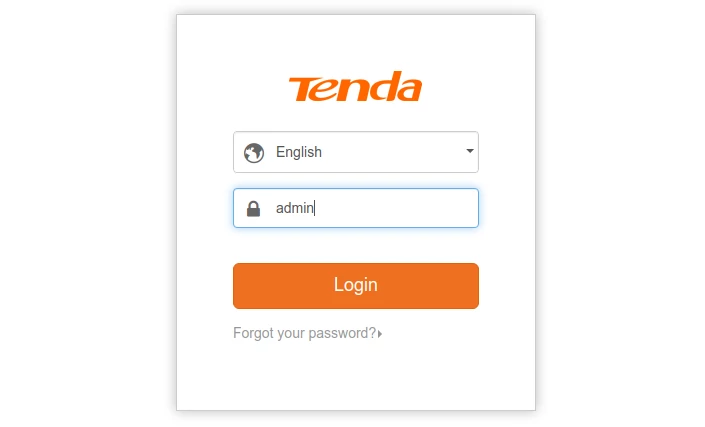 Step 4: After logging in, click on the Wireless Settings in the left menu.

Step 5: Under the WiFi Name and Password section, enter your new preferred name for the WiFi in the WiFi Name input field. Select the "WPA/WPA2-PSK" option in the Security Mode, then enter your new preferred password in the WiFi Password field.
Make sure the password is strong and difficult for people to guess. It should be at least 8 characters in length and not more than 63 characters. It can contain letters (a-z), numbers (0-9), and special characters. A mixture of all three types is advisable.
Make sure to note it down somewhere or remember it off head for that is what you will be using to connect to the WiFi.
Then click on the OK button at the bottom right to save and apply the changes.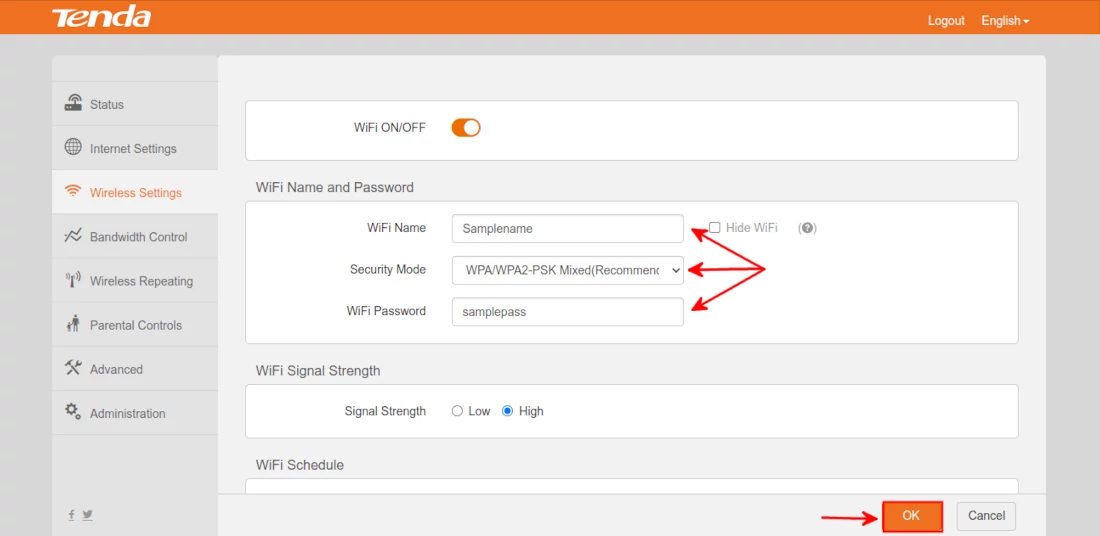 After this change, all the connected devices will be automatically disconnected from the WiFi and will be required to enter the new password to reconnect.
You can change either the WiFi name, its password or both at any time as many times as you wish.