John   |     19 Sep 2022
How to set up Guest WiFi network on Tenda AC10 router
A guest WiFi is basically a secondary WiFi network that you create to give an access point to the internet without sharing your primary network which your devices are connected to.
Why this is important is to get rid of potential security threats in your network.
Let's say for instance a visitor's device is infected with malware. If he/she goes ahead and connects to your primary network in which your home devices are connected, the malware may spread within the local network and infect those devices.
On the other hand, if the infected device is connected to the internet via the guest WiFi, it won't affect the other devices within your home network.
By having Guest WiFi, you will be both hospitable to your guests and keep your local network safe.
Most routers allow the creation of a Guest WiFi network via the admin control panel (a web interface). However, the procedure of doing it is different and varies from one router model to the other.
In this article, I will show you how to create and set up a Guest WiFi network on the Tenda AC10 router.
Creating a Guest WiFi on the Tenda AC10 router
Follow the easy steps below:
Step 1: Connect your PC to your home or office network. You can do so via WiFi or using an Ethernet cable.
Step 2: Open the router control panel. To do so, open a web browser and type 192.68.0.1 or tendawifi.com in the address bar, and then hit the Enter key.
Step 3: The login page will open. Enter the password and click on the Login button. If you have never changed the router login password before, then it's by default admin.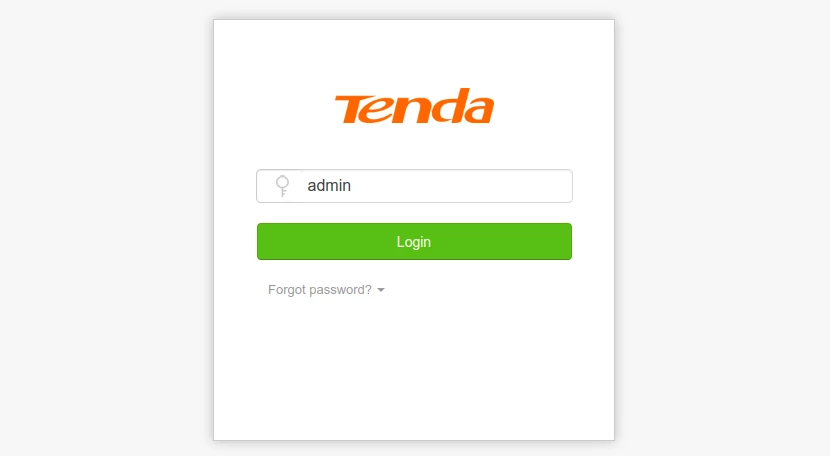 Step 4: On successful login, you will be redirected to the control panel home page. Click on the Guest Network option in the left menu.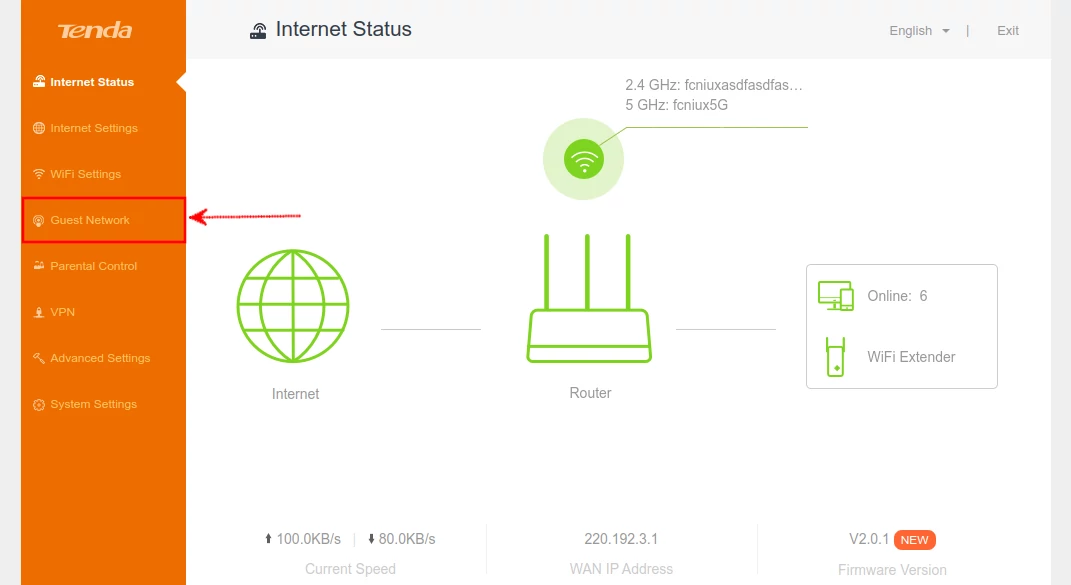 Step 5: On the Guest Network page, click on the Guest Network toggle button to turn it on. Then enter your preferred WiFi network names in the two fields.
Enter your preferred WiFi password in the Guest Network Password field. This WiFi password is optional, if you want your guests to connect to the network without entering a password, just leave the field blank.
The validity is the duration in which this WiFi will remain active/open. You can select either 4hrs, 8hrs, or always depending on how long you want to give its access.
Then select (or enter) the amount of bandwidth that you would like to allocate for sharing among all the devices connected to the Guest WiFi network.
Click on the Save button to create a new or apply changes to the network.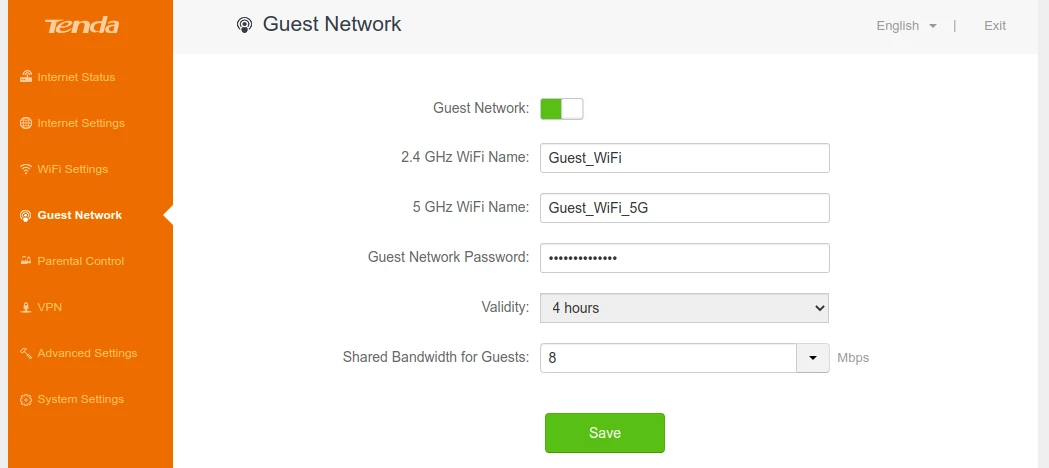 Conclusion
In this article, you have learned what a Guest WiFi network is, why it's important, and how you can easily create and set up one on a Tenda AC10 router.