John   |     11 Mar 2022
How to Sign Out from Google Account on all other devices
There are high chances that at some point you have logged into your Gmail account using different devices. This may be for instance at work using work computers. Another scenario may be at a cybercafe or using a friend's device.
There are also chances that you may have lost a device that you had logged in with to your Gmail account or it may have been stolen from you.
In all the above instances, you may or may not be sure of whether you logged out of your Gmail account from these devices the last time you used them.
It is always advisable to have a minimal number of devices logged into your Google/Gmail account as possible, preferably those you own and only you have access to.
What can go wrong?
There are many things that can go wrong when other people have access to your Gmail account. Such include:
Unauthorized access to your confidential information. Examples:

Emails you have sent or those sent to you.
Login credentials to different websites/applications shared with you via email.
Your important files on Google drive.
Email and phone contacts saved in your account.
Scheduled meetings or events on Google calendar.
Search history on Google search and Youtube.
The apps you have installed on Google Playstore.

Deletion of important information. In addition to unauthorized access to the details above, a person with ill intention may delete this information, which can be fatal especially if you have no backup to it.
Someone can use your account to sign up or log in to websites and applications using your Google Account.
Someone can fake your identity and send emails pretending to be you.
Someone can make changes to important information. For instance, if you have a Google My Business (GMB) account associated with your Gmail account, they may change your business information or even close/delete the account.
The above is not an exhaustive list but just to serve as an example of why it is important to keep your Google account private.
All is not lost. If you still have access to your Google account but are suspecting that someone else is accessing it, or you know you logged in to it on a device that you no longer have access to but forgot to log out, this article is for you.
I will show you how to check the currently logged devices in your Google Account. You will be able to see when they last accessed your account and from which location. In addition to that, you will also learn how to log out from some or all of them.
How to log out other devices from your Google Account
Follow the steps below:
Step 1: Open your Gmail account on a web browser on your computer.
Step 2: Click on your profile picture at the top right corner. Then click on the "Manage your Google Account" from the dropdown menu that appears.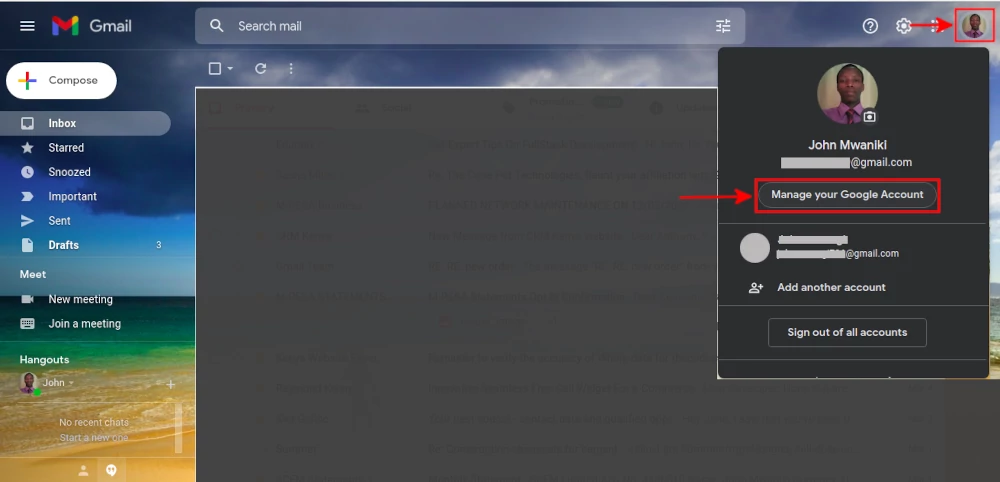 Step 3: Click on the Security option in the left menu.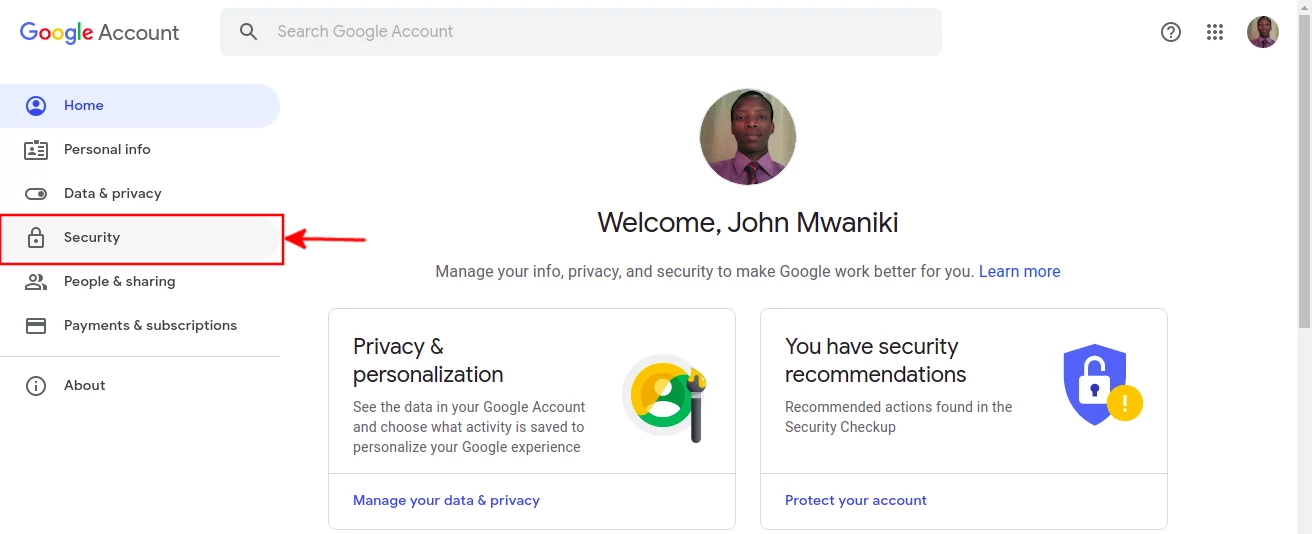 Step 4: Scroll down to the "Your devices" section. You will be able to see a list of currently signed-in devices to your Google account. Click on the "Manage devices" link or basically anywhere within the enclosed box to view more devices and details.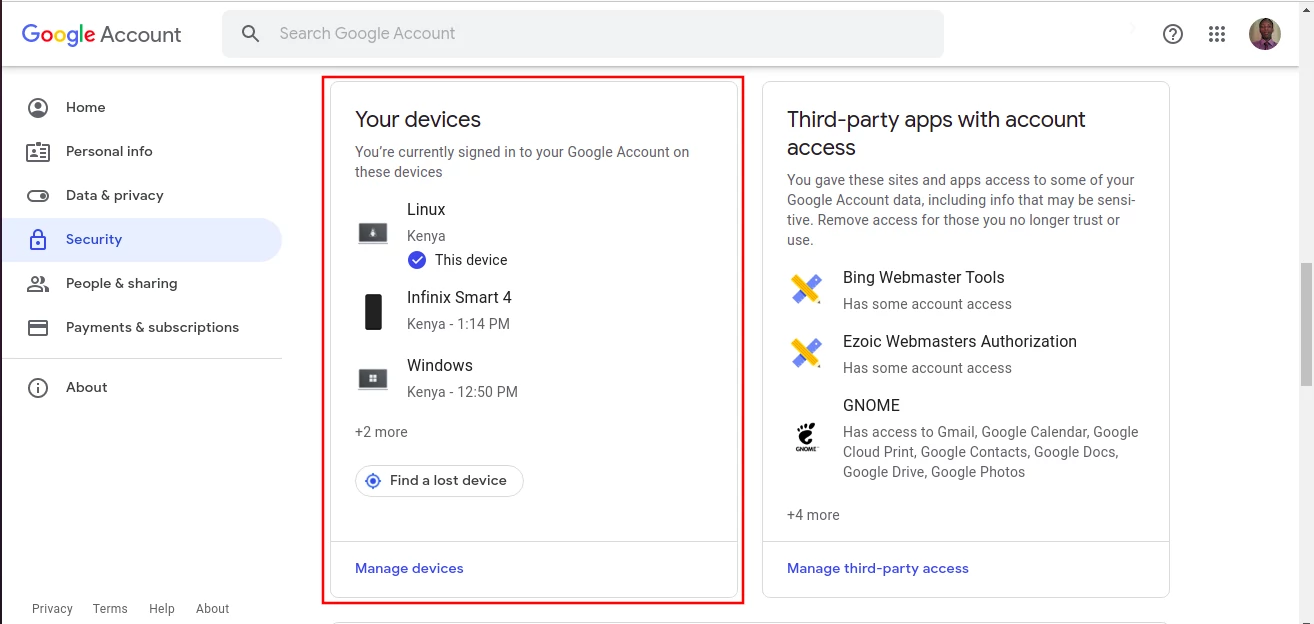 Step 5: You will see a list of all the devices signed in to your Google Account. You will see the name of the device or its operating system, its location, and the last time it accessed your account. You can click on the "More details" link under each device for more information. The device you are currently accessing the account with will have a blue tick.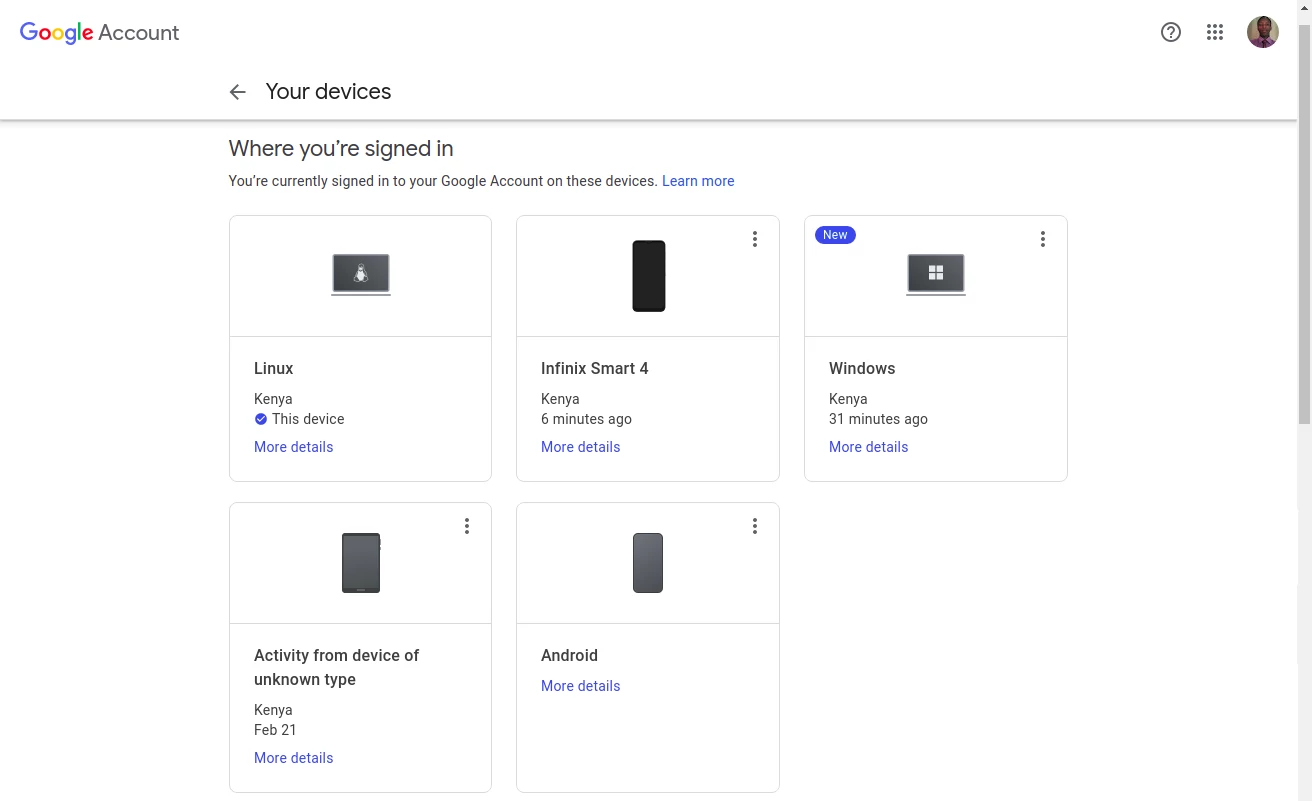 Step 6: You can now log the devices out of your Google Account one at a time. To do so, click on the 3-dotted menu at the top-right corner of the device details. A dropdown menu will appear, click on the "Sign out" option.
Step 7: You will be prompted to confirm the sign-out. Click on the "Sign out" button to confirm.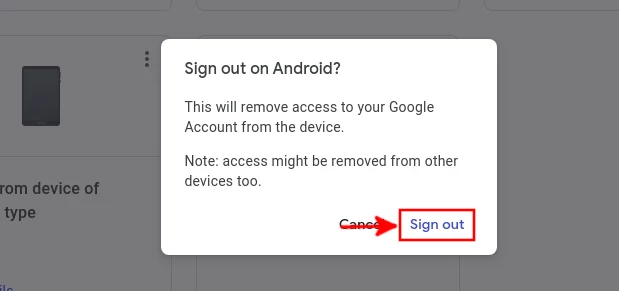 The device will be logged out from your account. After successful sign-out, the devices will be required to log in again to access the account. They will also be moved from the "Where you're signed in" section to "Where you've signed out" and will remain there for 28 days.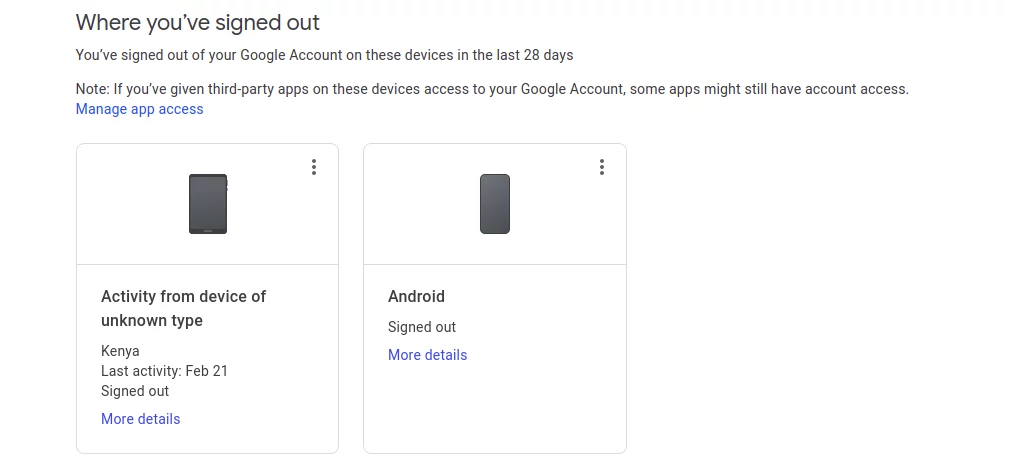 Signing out devices by changing the password
Another way to log devices out from a Google Account is by changing the account's password.
Once the password is changed, the next time all the devices try to access the account again, they will be required to enter the new password.
That's it!
Now you know how to check the devices that are currently signed in your Google/Gmail account and how to sign out of them all.