John   |     30 Sep 2022
How to permanently delete your Facebook account
In this article, I will show you how to permanently delete your Facebook account via your computer.
For some reason, you may get to some point where you decide to do away completely with your Facebook account.
Why people delete their Facebook accounts
Below are some common reasons people leave Facebook or delete an Fb account:
Time wastage - Facebook is a very addictive platform. If you are not careful, you may find yourself spending too much of your time just scrolling and viewing unending posts on the Facebook feed. This may go to an extent that negatively affects your performance in your job or studies. Being too much on your phone all the time can also damage/weaken your relationship with your loved ones.
If you have multiple accounts - You may have created more than one Facebook account some time back but now you don't see the point. You would like to do away with the other account(s) and remain with only one.
Too much irrelevant/unhelpful content - The main reason many people join Facebook is to connect with friends, keep updated with the current news and developments as well as be entertained. But many times that is not always the case. In many instances, you will keep seeing content that doesn't excite you at all such as politics, fake news, hatred, and violence. Sometimes you can hardly see posts from friends, pages, or groups that you care about. Also, too many Ads after scrolling every little bit or within videos can ruin your experience.
A lot of illusion - There is too much illusion on social media. You will have thousands of 'friends' on Facebook who you barely know. It's so exciting when you post something and it gets many likes and comments. It gives you an impression of how much you are liked while in real sense you have very few or no friends that you can count on in time of need. People are so fake that they post only one side of their lives- the flashy one, living their best and eating life with a big spoon. You might think you are living a low life, undervalue your being, and feel bad for yourself while in reality, you are way ahead in many ways.
Privacy concerns - Facebook will make you share too much information about yourself with the world. Besides that, they always keep tracking you and collecting as much information about you for marketing purposes. If you care too much about the privacy of your personal information, then deleting your social media accounts would be one step in achieving that.
This is not an exhaustive list. Some people just get tired and leave while others have their own personal reasons for deleting their Facebook accounts.
What does the account deactivation or deletion mean?
Facebook has two options that allow you to leave:
Deactivating your account
Deleting your account
Deactivating your account is temporary. Your profile, posts, photos, and videos won't be deleted. People won't be able to see or go to your Facebook profile. You will still be able to chat via Messager with a deactivated account. You can reactivate your account at any given time.
On the other hand, deletion is permanent. Once done, there is no going back. You will lose everything that you have added over time permanently such as your Facebook profile, photos, posts, videos, etc. You won't be able to use the Facebook Messager anymore. Messages sent to friends may still be visible on their end after you your account deletion since Fb keeps a copy of your message in your friends' inboxes.
On deleting your Fb account, you will no longer be able to log in to any site, app, or platform that you have used your Fb account to sign up.
Facebook page(s) that you control as the only admin will also be deleted. If you don't want to lose the page, you can simply make another person an admin of the page before deleting your account and thus the page won't be deleted.
It is therefore very important to take precautions before deleting a Facebook page as it may result in unexpected outcomes.
How to delete your Facebook account
Follow the steps below to permanently delete your Facebook account on your computer.
Step 1: Log in to your Facebook account on your web browser.
Step 2: Click on the inverted triangle icon at the top-right corner of the page. Then click on the Settings & Privacy option from the dropdown menu.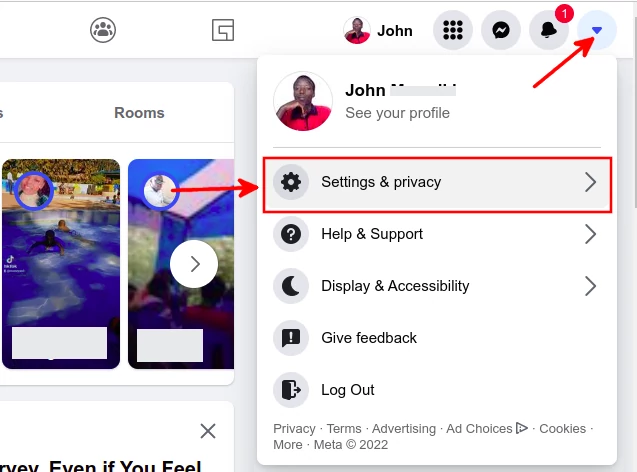 Step 3: Click on the Settings option from the Settings & Privacy menu.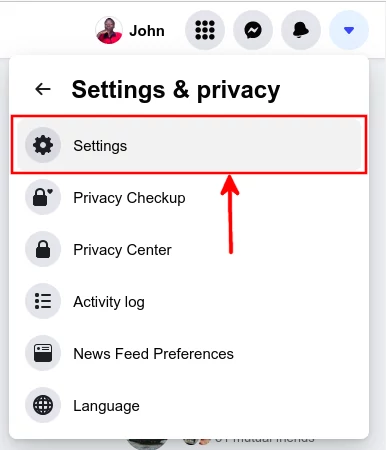 Step 4: Click on the Your Facebook Information option from the left column menu.

Step 5: Scroll down on the right side to the bottom and click on the Deactivation and deletion option.

Step 6: Select the Delete account option then click on the Continue to account deletion button.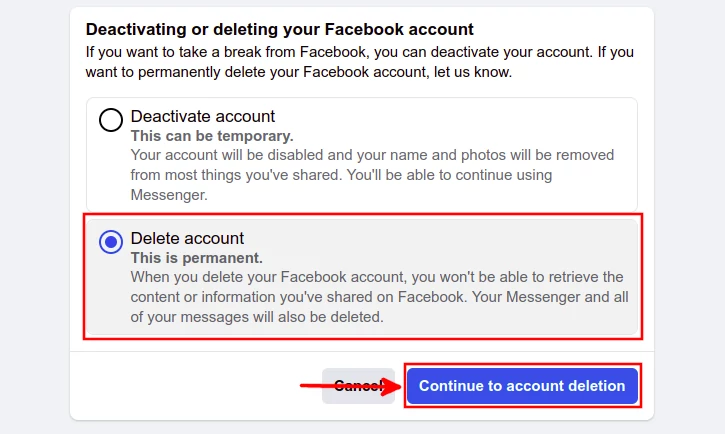 Step 7: You will be presented with another warning that deletion is permanent and information deleted won't be retrievable. If you want a copy of all the information you have added to Facebook, you can get it by clicking on the Download info button. Click on the Delete account button to proceed.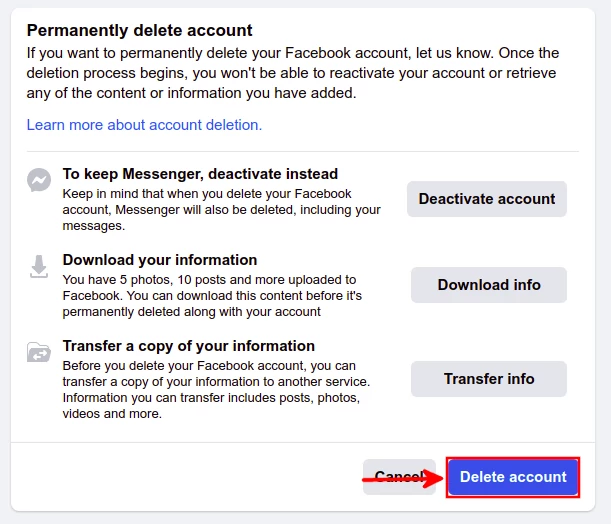 Step 8: To prove it's really you doing the deletion and not another person who may have gotten access to your account, you will be prompted to do a password confirmation. Just enter your password in the input box and click on the Continue button to proceed.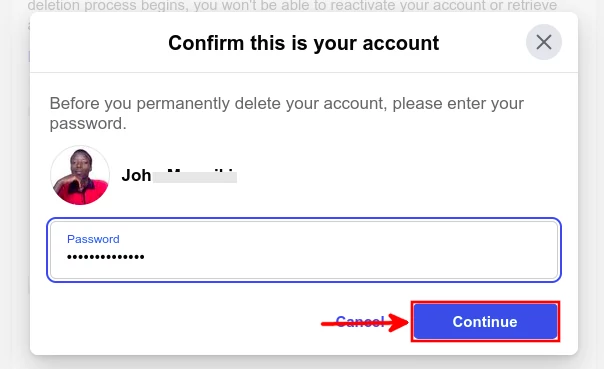 Step 9: You will get one more confirmation alert. Click on the Delete account button of the pop-up modal.
Now your account at this point is scheduled for deletion within the next 30 days and nothing more is required from you. You will be redirected to the login page with that information as shown below. If for any reason you change your mind within the 30 days, you can log in to the account and cancel the deletion.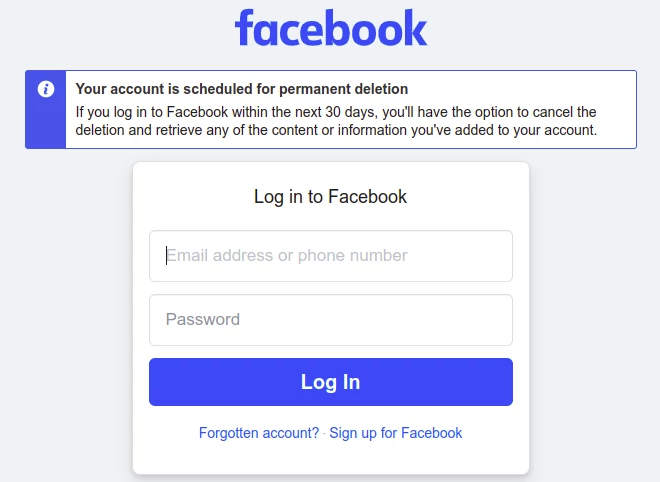 That's it.
Now you know how to delete your Facebook on the desktop version on a computer.