John   |     19 Apr 2022
How do I search for posts within a Facebook group?
Groups are an awesome feature on Facebook where people communicate about shared interests with certain people.
On Facebook groups, people can exchange ideas and air their views on particular issues. Since groups usually comprise people with shared interests, they are always a good place to learn new things and get answers to your questions.
It is almost given that someone or some people in the group have at some point been in your shoes and already know the answers to your questions. For this reason, most people use the groups as a questions and answers forum while others share stuff that they think could be of great help to someone in the group.
As time passes, questions and answers accumulate to a point where most of your questions are already answered. It's redundant to ask the same questions again and again. In fact, most groups have rules that one should avoid asking questions that have already been answered before.
Luckily, Facebook has a search feature that allows you to search whether something has been asked and answered before. This saves time and eliminates redundancy. If a question has been answered before, then you can get an answer within a few minutes or even seconds unlike if you were to ask it again where it can take you hours or even days before getting the right answer.
To search for a post on a Facebook group, follow the steps below:
Step 1: Log in to your Facebook account and navigate to the group where you want to search.
Step 2: You will see the search(lens icon) button, click on it.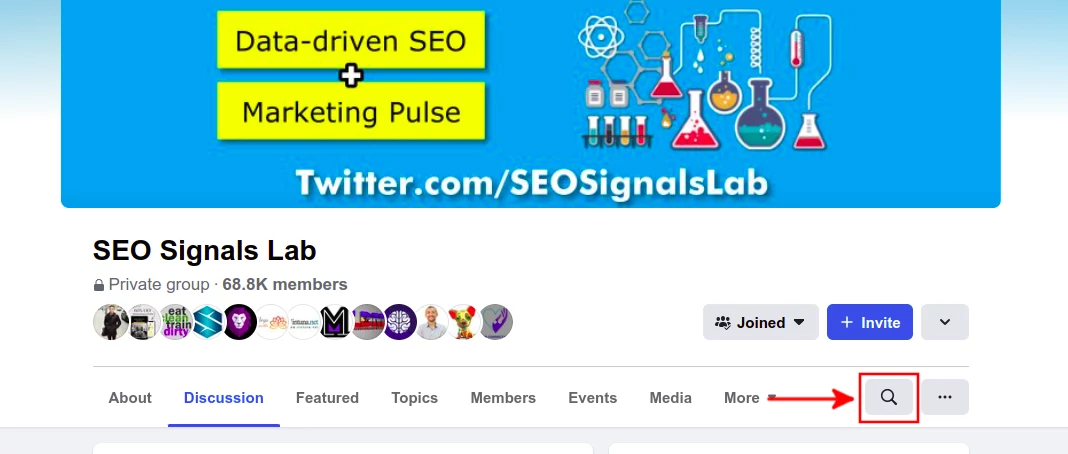 Step 3: A popup modal with a search box opens. Type in the search box the term/keyword that you want to search (this could be a word or a phrase) and then hit enter.

You will be redirected to a page with all the posts containing the search phrase in the post content or within the comments.

To make it even much better, Facebook allows the use of filters to narrow down the search results. In the left column, use the various options that best match your search intention. This can be especially useful, let's say for instance when you had seen a post and then it disappears. In that case, you can enable the "Posts You've Seen" and "Most Recent" options. The search will filter down the posts to only those you have recently seen.
In the example below, I used filters to only see posts with the search term "search volume", posted in the year 2022 and that I have seen before.

That's it. Now you know how to search for posts on Facebook groups.