John   |     07 Jul 2022
How to write in bold and italic on Facebook status update
You most probably have seen posts on Facebook with bolded or italic texts. This is usually done to make the status update stand out and to easily capture the attention of Facebook users as they scroll through the feeds.
Maybe you have tried it but couldn't find a way to do it. If you have not tried it yet, you will likely get stuck when you want to as it is not a straightforward process.
In this article, you will learn how to bolden and make text italic in your Facebook status updates(posts) using different methods.
How to bolden and italicize texts on Facebook posts
There is no native (in-built) way of formatting ordinary posts on Facebook to bold or italic (the option is only available for groups' posts). To bolden or italicize texts in your posts, you will need to use third-party web-based tools that generate Unicode text that can be used on Facebook and other social media platform.
Using YayText
YayText is a Unicode text generator that generates bold and italic text using Unicode characters, which can be copied and used on Facebook, Twitter, and other platforms.
Follow the steps below:
Step 1: Open the YayText text generator in a web browser.
Step 2: Open your Facebook account on a different browser tab and create a new post. Type your post text as you would want it to be before formatting but don't post it yet.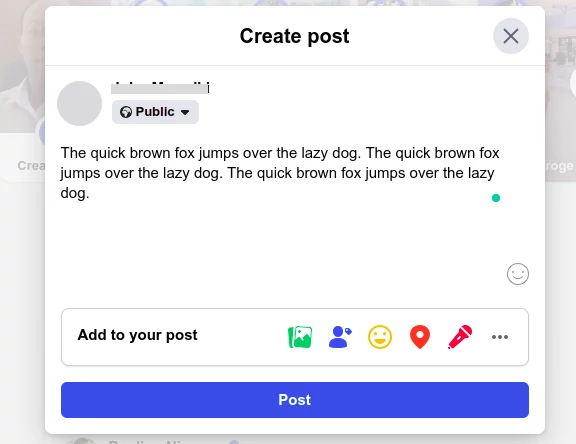 Step 3: Copy the text that you want to bolden or italicize by selecting it and using the Ctrl+C keyboard shortcut or by right-clicking and selecting the Copy option from the context menu.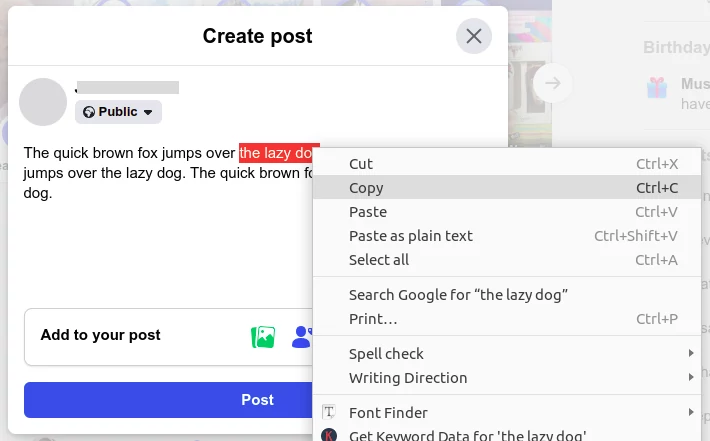 Step 4: Navigate to the YayText browser tab, scroll down and paste the copied text into the "Your Text" textbox. You will see a number of options below with your text previewed as either bold or italic and in different fonts. Click on the "copy" button on the right side of the text version that pleases you and the text will be copied to your device's clipboard.

Step 5: Return to Facebook and paste from the clipboard to replace the text with the bolded or italic version. To do so, make sure the text you want to replace is selected/highlighted, and then use the Ctrl+V keyboard shortcut to paste. Alternatively, you can right-click on the text and then select the "Paste" option. Repeat the steps until you have all the text as you would want it in the final post. Once you are comfortable with it, hit on the Post button to publish the post.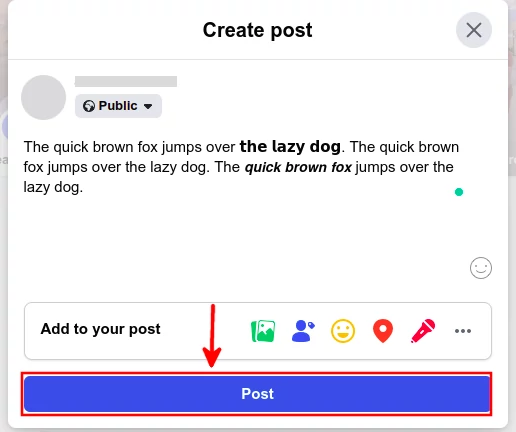 Now people will see your new post with bolded and italic texts.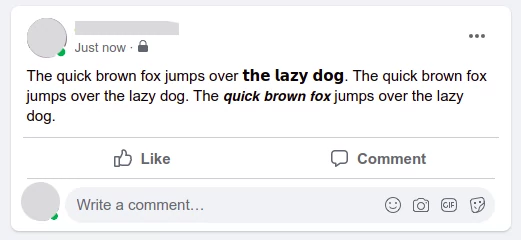 Using Capitalize My Title
Capitalize My Title is another third-party website tool that you can use to generate bold and italic texts for use on social media posts.
Its use is very similar to that of Yaytext. Just visit its bold text generator page and type in or paste your text in the input box. You will see the bold text in the output box. Click on the Copy button on the top-right to copy the bold text.
Besides the bold option which is the default, you can also make text italic, backward, small, upside down, etc by clicking on the options below the input and output boxes and they will be applied in the output box.
In a similar way as described for the Yaytext option above, go back to the Facebook post and paste the formated texts in the status update content before hitting the Post button to publish the post.
Using bold and italic texts in Facebook groups
Facebook groups have a rich text editor (though it's not visible by default). This means that within a Facebook group, you can format the text into bold, italic, bulleted, and numbered lists, and headings when publishing posts.
All you have to do is create a post in a Facebook group and then select/highlight the text which you want to format. Some options will appear just above that text - to bolden the text, click on the B option. The selected text will become bold. To make the selected text italic, just click on the I.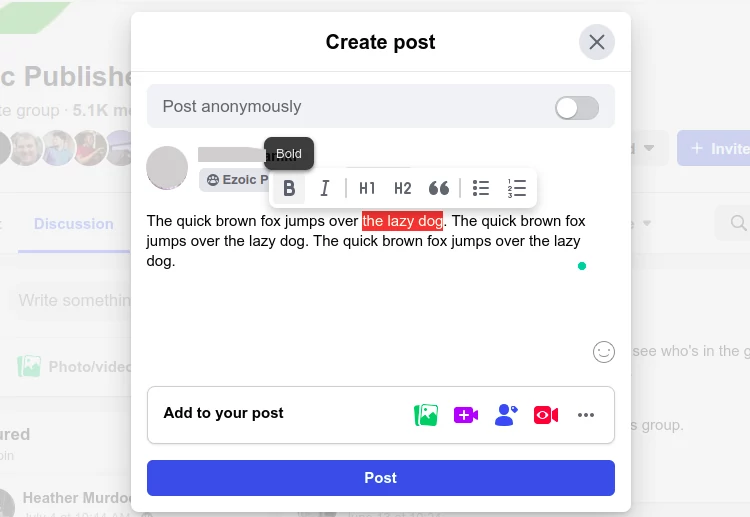 You can publish the post when done and the group members will see it as formated.
That's it!
Now you know how to format your posts on Facebook with bolded and italic texts.